New York has a long, storied tradition of brewing beer, but never in living memory has there been so much of it. About 100 new breweries have opened in the state just since January 2014, bringing the total to 288 as of the first week of October, according to the New York Brewers Association.
In fact, New York has more breweries than any state east of the Rocky Mountains and more than at any point since Prohibition.
A state law enacted in 2013 has fueled much of this growth, cutting red tape for smaller startups so long as they get a lot of their ingredients, like grain and hops, from in-state farmers. But credit is also due to the moxie of New York brewers, who are willing to take risks stylistically and geographically (some have opened in areas that haven't seen a brewery in eons). These newer breweries produce all manner of styles, from seemingly obligatory IPAs and pale ales to more esoteric fare such as roggenbier and kolsch.
To help make sense of such diversity, we looked at some of the newest openings within the past two years and took into account what makes them unique — from their methods to their selections. These are 10 of the best new breweries in New York State.
BROOKLYN
Jesse Ferguson, former head brewer at New Jersey's well-respected Carton Brewing Co, launched this operation with Laura Dierks in East Williamsburg earlier this fall. It has released several beers in collaboration with other, more established breweries, but also makes its own. The company also bridges that increasingly narrow divide between craft beer and craft spirits with offerings such as a gin called Goodwin Hill.
Beers of note: Bass In Your Face is a double IPA clocking in at nearly 8% ABV. And then there's a milder IPA called Here Come the Drums.
BROOKLYN
Another newbie, Bushwick-based Kings County Brewers Collective has brought brewing back to one of Brooklyn's (and the nation's) pre-Prohibition beer hubs. (Very long story, very short: Germans settled in these parts of Brooklyn and brought their thirst for beer with them.) The brewery, which just opened this fall, is the first to operate in Bushwick in 40 years. Founders Zack Kinney, Pete Lengyel, and Tony Bellis met through homebrewing and toiled at other breweries in the borough before striking it out on their own.
Beers of note: Janiak Maniac — named for the brewery's landlord — is a crisp, clean pilsner. Stoop Sale is a kolsch, the sweetly bitter 19th-century German answer to the rocket-like rise of pilsner out of what is today the Czech Republic.
BROOKLYN
Folksbier's beers aim for drinkable balance — neither too stinking strong nor puckering bitter; nor weak, nor watery, for that matter. Travis Kauffman worked in new media and web design in New York City before launching Folksbier in Carroll Gardens in 2015, but his roots are in Northern Michigan, where his family owns a farm. That's where Kauffman has cultivated an acre of hops that he uses in some of Folksbier's creations. Call it farm-to-pint, but only if you must.
Beers of note: Rye rather than barley dominates the grain bill of Folksbier's Echo Maker, a nod to the rarely seen German style known as roggenbier. Helles Simple is another German-style offering — what'd you expect from a brewery called Folksbier? — lighter-colored and lighter-tasting.
THE BRONX
This Williamsbridge facility's 2014 opening is a great example of just how dynamic the New York City beer scene has become. It's the first production brewery in the Bronx since 1961. Founders Kieran Farrell and Dave Lopez met through a local baseball club, and teamed up with brewmaster Chris Sheehan on the development of Gun Hill (named for a local landmark where rebels stored their weapons during the Revolutionary War). The idea was simple: to wrest some of the attention of New York City's craft beer boom from Brooklyn. It worked. Sheehan has since left and Chris Prout, formerly of Greenpoint Beer & Ale, has taken over brewmaster duties.
Beers of note: Spirit 76 is an admirably crisp pilsner, and the pomegranate session ale is one of the more interesting takes you'll find on the lower-alcohol beer craze.
GARNERVILLE
This aptly named brewery, located in a 19th-century factory about an hour northwest of the Bronx, is yet another testament to the Hudson Valley's respectable craft beer scene. Founder Jeff O'Neil's reputation preceded him when he opened the facility last fall. O'Neil had been the brewer at upstate standouts Peekskill Brewery and Ithaca Beer Co, and is now translating what he developed there into straightforward interpretations of classic beer styles.
Beers of note: Industrial Arts' flagship brew, Tools of the Trade, is a standard extra pale ale, while State of the Art is a seasonable IPA that will use different hop varieties for different iterations.
LIVINGSTON
This start-up has a direct connection with what's perhaps the most cultish craft brewer and craft brewery in the United States. Co-founder and brewmaster Dan Suarez worked under Shaun Hill of tiny Greensboro Bend, Vermont's Hill Farmstead (which some of America's fiercest beer aficionados call the world's best brewery, never mind the US). Suarez and wife Taylor Cocalis Suarez chose another small town — Livingston (pop: 3,600), about halfway between New York City and Albany — for their new brewery, which launched this past summer.
Beers of note: Suarez Family's selections rotate, but the brewery focuses on unfiltered lagers, hoppy pale ales, and what it describes as mixed fermentation beers.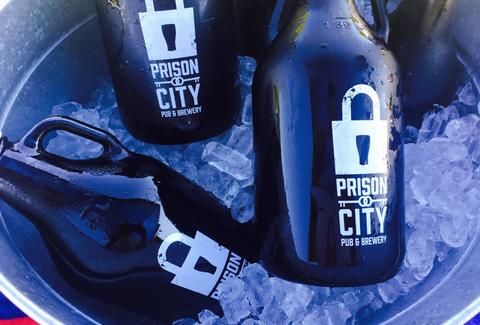 AUBURN
Prison City broke out early (heh) with its pale ales and IPAs, including a Belgian iteration of the former. Husband-and-wife team Marc and Dawn Schulz launched Prison City in mid-2014, and are planning a further expansion in Downtown Auburn. Brewer Ben Maeso also has a line of barrel-aged and sour beers going, which the additional space will allow him to expand. Meanwhile, Prison City's pub carries other craft selections in addition to its own on-site creations.
Beers of note: The Belgian-style pale ale Bleek Worden won a silver medal at the 2015 Great American Beer Festival. Also, go ahead and sentence yourself to Prison City's juicy, fruity Mass Riot IPA.
WILLIAMSVILLE
Scott Shuler relocated from Tampa Bay this past spring to take over as head brewer for this outfit, launched by a group of eight owners, just to the east of Buffalo. The start-up's beers range pretty widely already, and now include a pilsner, a vanilla-flavored wheat, and a coffee porter, complementing a leadoff suite of IPAs.
Beers of note: West Coast IPA includes two helpings of Citra hops, one during the boil and one after the boil's cooled (aka dry hopping). Also try the coffee porter, which makes use of real coffee from a Rochester roaster.
EAST BERNE
Mike Wenzel and Chris Smith launched the brewery in late 2015 in a section of the basement of Maple on the Lake Restaurant in tiny East Berne, about 45 minutes west of Albany. It's an excellent example of a farm brewery, a concept that New York State helped pioneer. At least 20% of Helderberg's grains and hops originate in the state. (Fun fact: New York was the nation's No. 1 hop producer before Prohibition; nowadays, the Pacific Northwest now dominates domestic cultivation.) The one-barrel brewery is still located downstairs, but the beers are only available upstairs in the restaurant.
Beers of note: Four different grains and three different hops go into its Round Bale Pale Ale. All the grains and hops for its Helderburgh Hills IPA — named after the local mountain range — come from New York. Drink local, indeed.
BROOKLYN
Even if you're not familiar with the brand, you've probably seen its stylish, iridescent 16oz cans in the hands of your beer-obsessed friends. Other Half's products are invariably described as some variation of hop-forward — dank, juicy affairs in the ultra-popular IPA tradition. Founders Samuel Richardson and Matt Monahan met at Greenpoint Beer Works' brewery/taproom in Brooklyn, and later opened their own brewery/taproom in Carroll Gardens in 2014. Arguably NYC's best brewery right now, it's a must-stop for any true beer tourist who comes to town.
Beers of note: All Green Everything is a triple IPA with four kinds of hops and an alcohol content of 10.5%. For a much milder sip, try the standard Other Half IPA.