There's never been a better time to be drinking beer in New York City, with about 30 breweries and brewpubs operating across the five boroughs, lots of which are breaking boundaries with some of the country's most unique beers and brewing processes. The best part about it? Many of these local NYC beers have never been distributed beyond city limits. That means you can only drink them right here, right now. Here are 10 of the very best to get you started.
Brunt Pilsner
Sixpoint
Brooklyn
Sixpoint's new series of beers called Brunt is not simply exclusive to New York City — it's available only in the 12-year-old brewery's home neighborhood of Red Hook, Brooklyn. The first Brunt beer was a golden ale that debuted in the summer, and the second, as of early November, is a wet-hopped pilsner. What's wet-hopping (besides something that sounds vaguely naughty)? It's the process of using fresh hops during the pre-fermentation boil. In this case, Sixpoint harvested the hops from the backyard of Brooklyn Crab down the street and added them to the end of the boil not even an hour later.
Availability: Red Hook Lobster Pound; the Good Fork; Brooklyn Crab; Hometown BBQ; Brooklyn Ice House; and Red Hook Bait & Tackle.
Hop Lager
KelSo Beer Co.
Brooklyn
To mark its 10th anniversary this year, KelSo created its own local twist on the American style of beer known as India pale lager (a smoother tasting yin to the popular IPA's spicier yang). Its Hop Lager is what brewer and co-founder Kelly Taylor calls a "session IPL," which means a smooth-tasting, lower-alcohol beer that you can drink without feeling overserved. This only-in-New York beer clocks in at a modest 5.5% ABV.
Availability: On draft at Eli's Night Shift and other select bars while supplies last.
Imperial Pale Ale
Bronx Brewery
Bronx
Brewing is a notoriously unforgiving business. Hundreds of small breweries and brewpubs have gone belly up since the 1990s. So, when it came time for Bronx Brewery to mark the fifth anniversary of its launch this year, the operation decided to take a little libationary victory lap. The brewery, which specializes in pale ales, took its inaugural offering, an Americanized pale ale, and flavored it with oak — and upped the alcohol content from 6.3% to 8.56% (a nod to Bronx's address at 856 East 136th St).
Availability: The so-called imperial pale ale is available at the brewery's tasting room and at the Bronx Alehouse, the first establishment to serve the brewery's beer way back in 2011.
Other Half Double IPAs
Other Half Brewing
Brooklyn
If there's one stylistic example of American craft brewers cranking things to 11, it's the double India pale ale, a strong, super-bitter quasi-style invented in Southern California about 20 years ago and still evolving in the hands of brewers such as the folks at the two-year-old Other Half in Carroll Gardens, Brooklyn. The brewery specializes in double IPAs, releasing at least one new one weekly. The canned versions are available only in Other Half's taproom, but they're on draft at bars throughout Brooklyn, Queens, and Manhattan. The brewery also has a dizzying array of other offerings, nearly all of which never leave the city.
Availability: The taproom, as noted. And in bars such as the Blind Tiger, Proletariat, Fool's Gold, and Upright Brew House.
Ol Gilmartin Milk and Oatmeal Stout
Bridge and Tunnel Brewery
Queens
Out in Ridgewood, Rich Castagna is living the dream: a one-man brewery (with an assist from wife Lisa Castagna) working off improvised equipment and self-distributing only in the city. The four-year-old Bridge and Tunnel is perhaps the finest example of that locality that craft brewers in general have restored to American beer. The brewery's first offering was a milk stout — basically stout with lactose sugar added to make it that much sweeter and smoother — called Ol Gilmartin Milk and Oatmeal Stout. It's available only in the five boroughs, as are creations such as a coffee-infused cream ale and a vanilla porter.
Availability: Your best bet is the brewery's taproom in Ridgewood, Queens. Bars that have carried Bridge and Tunnel wares include Jimmy's No. 43, The Queens Kickshaw, and Inwood Local.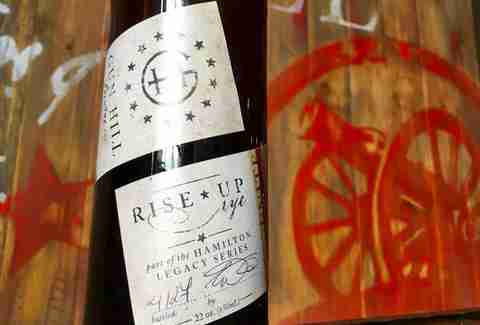 Rise Up Rye Saison
Gun Hill Brewing Co.
Bronx
What's better than a beer that's only available locally? A beer that's only available locally that's tied to the biggest Broadway hit in eons! Two Broadway actors named Mark Aldrich and Jimmy Ludwig came up with the idea a while ago to pair shows with beers, but didn't get any takers until the producers of Hamilton said yes and enlisted the help of Gun Hill Brewing. The result of this actor-brewer collaboration is a farmhouse ale-slash-saison, a light-tasting, yet full brew that utilizes rye, one of early America's most common grains. Hamilton himself would recognize it.
Availability: Get some at the brewery itself as well as at the Terroir bar in Tribeca. Rise Up Rye was originally distributed outside of the boroughs, so you may see a few stray cans in Long Island or Jersey. Now it's only distributed within city limits.
Rockaway ESB
Rockaway Brewing Co.
Queens
Rockaway's malty sweet Extra Special Bitter is the only one of its beers that is available on draft and in cans. All of the brewery's other offerings are only offered on tap, including a nitrogenated stout called Black Gold and seasonals such as the recent Hawaiian IPA (with hints of tropical fruit). Of course, you can only find these beers in New York City, and within the city, the canned ESB has the widest distribution.
Availability: Various beers, including the ESB, can be found at Rockaway's two Queens tap rooms, in Long Island City and Rockaway Beach. The canned ESB can be found at numerous stores around the city, such as Diamond Dogs in Astoria and Precious Metal in Bushwick, while supplies last.
Short Term Goals
Kings County Brewers Collective
Brooklyn
This fall, the Kings County Brewers Collective brought brewing back to Bushwick, opening the first brewery in 40 years in what was once the nation's busiest brewing neighborhood. In its few months of existence, the brewery has released an eclectic range of beers, including at least three IPAs, two saisons, and a kolsch. Most of these and the brewery's other beers never make it beyond the five boroughs. And its imperial IPA, Short Term Goals, has never left. The beer's name is exactly what it implies: According to KCBC co-owner and self-described "brew commander" Tony Bellis, "Sometimes it's best in life to focus on the short-term goals" — like drinking this beer, which clocks in at pretty damn high 9.3% ABV.
Availability: Short Term Goals can be found at the brewery's taproom as well as in a handful of bars and stores in Brooklyn. Try the Kent Ale Housein Williamsburg.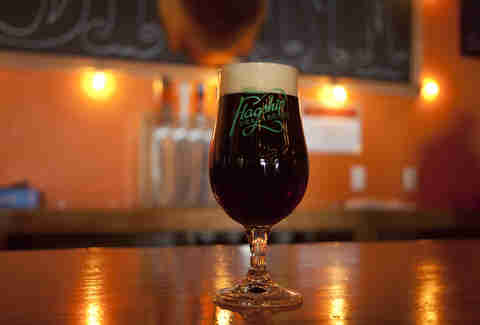 Unique Baltic Porter
Flagship Brewing
Staten Island
As a style descended from stouts and porters, Baltic porter is generally pretty thick and rich, in addition to being high in alcohol. Flagship Brewing's Unique Baltic Porter is just that, with a twist: The brewery used freshly roasted Kona coffee from Staten Island's Unique Coffee Roasters, about five and a half miles down the street, to impart a dose of java in the taste. Unique Baltic Porter, which is 8.5% ABV, was released in Staten Island and Manhattan in early November, with plans to spread it citywide.
Availability: It's available on tap in Manhattan at Spring Lounge, Brass Tap, Beer Table, and Malt & Mold. A nitrogenated version (think of a Guinness pour) is available at Manhattan's Blind Tiger and in Staten Island at Adobe Blues, Hop Shoppe, and Craft House.
Worshipful Company of Brewers
Brooklyn Brewery
Brooklyn
The granddaddy of New York City breweries (born 1987) has been making a quirky, hyper-specific line of beers since 2012 called the Worshipful Company of Brewers. These beers are one-offs of esoteric styles or interpretations of styles that you won't find at other breweries. The latest was a sour lager, released in mid-July, called Lacto Futura — an especially exciting move since sour lagers are a rarity; most sour beers are ales. It's an uncommon treat, and yes, a New York exclusive.
Availability: Only in Brooklyn Brewery's Williamsburg taproom while supplies last (supplies usually equal a few dozen kegs).
This article originally appeared on Thrillist New York.